IQM Centre of Excellence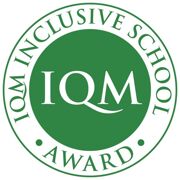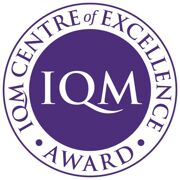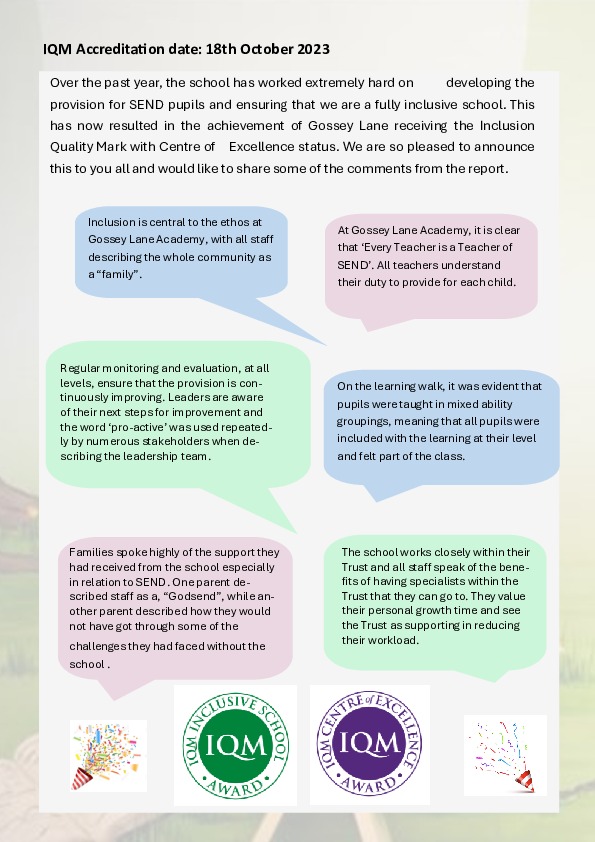 Overall Evaluation
Following an Ofsted inspection early in 2023 in which aspects of SEND provision were given as a target, leaders have worked tirelessly to change the culture of the school and to ensure that everyone is included. It is evident that there has been a complete shift in the ethos across school and inclusion is now at the heart of everything the school does. The Headteacher and SENCo are inspirational in their commitment to improving outcomes for their most vulnerable pupils and their enthusiasm and hard-working nature have ensured that all staff are supporting them on every step of their journey. The team is a 'family' and staff spoke about how, "if one person is down, everyone steps in to support them".
Everyone is now aligned to the same vision and leaders have shown a commitment to upskilling all staff so that they are confident in their ability to support all pupils across the school, as well as supporting each other.
It is evident through the documentation completed by the school to support the IQM Assessment that leaders know their school well and can provide evidence to demonstrate their effectiveness. Regular monitoring and evaluation, at all levels, ensure that the provision is continuously improving. Leaders are aware of their next steps for improvement and the word 'pro-active' was used repeatedly by numerous stakeholders when describing the leadership team.
Element 1 - The Inclusion Values of the School
Inclusion is central to the ethos at Gossey Lane Academy, with all staff describing the whole community as a "family". Leaders have worked hard to improve their provision since their most recent Ofsted inspection, and they have both a short-term Academy Improvement Plan as well as having worked with the Washwood Heath Multi Academy Trust on a three year SEND strategy. The SENCo has also formulated her own action plan to support her robust systems for monitoring across school.
Leaders have collaborated with staff about the need for change and staff now feel part of the vision for inclusion for the school. During meetings on the assessment day, they discussed how prioritising inclusion for all pupils has improved wider aspects of the school and they detailed how the wellbeing of pupils and staff is always "top of the list" in any meeting.
At Gossey Lane Academy, it is clear that 'Every Teacher is a Teacher of SEND'. All teachers understand their duty to provide for each child. They take their roles very seriously and often seek out their own professional development, in their own time, alongside completing professional development that the school may have set for them.
Element 2 - Leadership and Management and Accountability
Gossey Lane Academy has an extended safeguarding team to support all pupils, staff and the extended community. They have tightened up safeguarding procedures this year and communication is key to the success of the team. Weekly meetings are held between the Designated Safeguarding Leads (DSLs) and fortnightly meetings for the wider team. This helps everyone be alert to any situations that may need monitoring.
Staff wellbeing is integral to the inclusive ethos at Gossey Lane. It is the first point on the agenda for every meeting and all staff state that leaders check in on them regularly. New members of staff describe being, "included in the family from the moment they walked through the door". This is evident when walking around school.
Professional development is key to staff wellbeing. Staff are more confident to tackle challenging situations as they know they have the skills and the support to do so. The school and wider Trust commit fully to the professional growth of all staff. Each member of staff is paired with a coach. This includes lunch time supervisors and the school chef, demonstrating that the school is aspirational for all its employees. Staff spoke highly of these opportunities to discuss their worries.
Element 3 - Curriculum – Structure, Pupil Engagement and Adaption
Gossey Lane Academy has reviewed their curriculum to ensure that it is carefully sequenced and meets the needs of all pupils for them to be successful in life. They use Cornerstones to meet the requirements of the National Curriculum and have worked with all stakeholders to discuss other themes to run through school to support pupils to succeed in the modern world.
Following a review of the needs of the community, leaders began an oracy project as they recognised that supporting language development would be key to the future success of their children. The Headteacher currently leads on this project and is supporting staff with little steps to implement at a time.
One of the key drivers of the curriculum is that all pupils at Gossey Lane Academy are globally aware citizens. To support with this, leaders completed the Rights Respecting School's Gold Award and pupils spoke knowledgeably about the rights that all pupils should have such as, the right to clean water, the right to a name and nationality. Pupils also spoke confidently about other environmental issues such as the need to recycle.
A group of elected Pupil Leaders enjoyed the role of feeding back to their classes about national and local issues and spoke of other responsibilities that pupils could earn such as Safeguarding Rangers who help on the playground.
Leaders have considered the context of their community and are keen that all pupils have key memorable experiences during their time in primary school. They have created an '11 before 11' where pupils experience things like camping and completing acts of kindness such as visiting a care home. Pupils were positive about these experiences and looked forward to upcoming events in future years.
Element 4 - Teaching and Learning – Learning Environment, Planning Resources, Pedagogy
The environment at Gossey Lane Academy is well-organised, friendly and inviting. Staff have completed audits on their classroom environments, to reduce unnecessary clutter to avoid cognitive overload for the children.
Gossey Lane have implemented the Education Endowment Foundation (EEF) five a day principle to support pupils with SEND. Staff have received training on this research and the SENCo regularly monitors the quality of teaching and provides supportive feedback to staff on their use of explicit instruction, scaffolding and flexible grouping. Teaching staff are reflective on their practice and Phase Leaders support the SENCo in improving the quality of teaching using meetings with their phases to reinforce any recent professional development and to provide informal support to any staff that might need it.
On the learning walk, it was evident that pupils were taught in mixed ability groupings, meaning that all pupils were included with the learning at their level and felt part of the class. Although TAs were around to offer support as necessary and to prompt anxious pupils to have confidence when completing their work, they supported lots of children, rather than being stuck by the side of a one-to-one pupil.
For some pupils that needed a more flexible approach to their learning, they still joined in with the main learning of the lesson; however, when they needed a break from this, they had a Treatment and Education of Autistic and Communication Handicapped Children (TEACCH) style task box on hand, so that they could work on their own targets from their ILPs. Visual timetables and resources to support pupils with sensory needs were visible in the classroom and easily accessible for when pupils needed them. In all classes visited, pupils were completely included in the lesson and as an external visitor, I was unable to pick out any pupils that could be viewed as different to their peers.
Element 5 – Assessment
At Gossey Lane Academy, standardised tests are used termly to assess the pupils' progress in core subjects. At the start of the year, informal meetings are held to indicate any pupils that may be of concern, so that class teachers can adapt their planning accordingly. More formal pupil progress meetings are conducted across the year, after data collection points so staff can analyse data and identify appropriate intervention.
Data is tracked using the Arbor managing information system and leaders use this as a tool when assessing the quality of teaching and the provision at school. Leaders support staff to complete question level analysis after statutory tests so that this can feed into future planning. Gossey Lane reports a much better year for data in the year 2022-2023 with all areas in line or above national. Progress of SEND pupils at the end of Key Stage (KS) 2 is particularly high.
For pupils with additional needs, the Continuum Toolkit is used to assess progress and the SENCo utilises the electronic trackers alongside this to monitor these pupils. The SENCo and senior leaders evaluate the success of interventions and are not afraid to stop interventions that are not having the desired impact. They consider the workload of staff and what is already on offer to pupils before adding any additional interventions.
The SENCo has worked tirelessly to improve staff knowledge of the graduated response and to make the process of identification more robust. All staff interviewed were able to discuss the assess, plan, do, review, cycle and spoke about the need for adapted, quality first teaching in the process of identification. Staff now understand their part in this process, particularly when initial concerns about a pupil are raised. The SENCo also monitors ILPs to ensure targets are specific, measurable, achievable, relevant, time bound (SMART) and that children are making the expected progress.
Leaders recognised that they needed a method for monitoring the impact of SEMH interventions. The SENCo has introduced a Strengths and Difficulties questionnaire to support staff and has sourced toolkits for pupils who may have difficulties with their mental health.
Element 6 - Behaviour, Attitudes to Learning and Personal Development
All pupils' behaviour and attitudes observed during the assessment day were positive. The school uses the motto, "Ready for Learning and Ready for Life" to create a culture of good behaviour. Staff make sure that children have a positive start to the day by allowing them to choose their own "Gossey's Greeting". To reinforce positivity across school, leaders are using positivity framing Walkthrus as a focus when monitoring staff.
When questioned during their meeting, all pupils were able to discuss the school rules, 'Ready, Respectful and Safe'. The pupils were able to give an example of a situation when these words might be relevant and were happy that Dojo points were given out to reward this behaviour. This was witnessed on a learning walk when children were keen to earn Dojo points for being 'ready'. The pupils were also able to discuss what might happen if their peers made a poor choice and what this might lead to. They described how this did not happen often but if it did, the teachers and leaders would deal with it effectively. They were quick to point out that the Senior Learning Mentor would support if ever anything was on their mind. It was clear that the pupils felt safe and looked after in school. They felt that the introduction of new lunch time clubs had been very positive in stopping disagreements between groups of pupils.
Past Ofsted reports show that Personal Development has always been a strength at Gossey Lane Academy. Pupils are well prepared to be active citizens.
Element 7 - Parents, Carers and Guardians
Gossey Lane Academy recognise the importance of parents, carers and guardians in the pupils' learning journey. They see parents as an extension of their school family. They are working hard to remove barriers that the parents might face, particularly relating to attendance and finances.
All staff at Gossey Lane spoke of the poverty that some pupils face at home. They recognise the growing need for food banks and have made links within the community to be able to offer this. Staff are keen to look for any other ways to support families.
During the meeting with parents, the families spoke highly of the support they had received from the school especially in relation to SEND. One parent described staff as a, "Godsend", while another parent described how they would not have got through some of the challenges they had faced without the school. All parents felt that there had been a change recently and that their children now completed work within the class - sometimes different work to the other pupils but almost always with their peers.
One parent described how their child was no longer upset coming into school and that although there had been a change in staff, the transition had been smooth. Transition was also seen as a positive part of school by parents whose child had recently joined the school and was being supported to have a successful start to education.
Parents recognised that they had little cause to complain but when they had needed to raise a concern, it had been dealt with quickly. Parents felt that communication with the school was useful and regular. They liked the messaging option on Dojo as they could receive quick updates about how their child had settled into school that day.
Element 8 - Links with Local, Wider and Global Community
Gossey Lane Academy works with local and national providers to secure the services needed to improve outcomes for all young people. Many professionals regularly visit school such as Speech and Language, Educational Psychologists, Occupational Therapists. The school value all their relationships and work hard to identity the right professional to get involved at the right time. Outside agencies have started coming into school to meet with parents to discuss how they can help their children.
Through the Rights for Respecting Schools Award, pupils are taught about the global community and global issues and the school is looking to make links with a school in Pakistan to further develop the pupils' knowledge.
The school works closely within their Trust and all staff speak of the benefits of having specialists within the Trust that they can go to. They value their personal growth time and see the Trust as supporting in reducing their workload.
Gossey Lane Academy has links with other local secondary schools to support transition for their pupils from primary to secondary and their Young People's Advocate is linked to another educational establishment whose expertise they utilise.
Leaders at Gossey Lane Academy carefully plan visitors into school and educational visits out of school to complement the curriculum. They are aware of their community and the things that can help their pupils, alongside any barriers that they may need to overcome. They use their website to signpost parents to appropriate help whilst they try to encourage some hard-to-reach parents to cross the threshold into school.